The MACD indicator is a favorite of many Forex traders. It's an oscillator, which means that the values move from one extreme to another. The MACD indicator can be used both as a momentum indicator and an overbought/oversold indicator.
This post will look at the best MACD indicator settings for intraday trading.
Any trading strategy that relies solely on one indicator is doomed to fail because of multiple false signals, so the ideal strategy is actually one that uses the MACD(moving average convergence divergence) along with other indicators or confluences.
MACD settings for intraday trading
The best MACD indicator settings are the DEFAULT settings! Many trading systems are built around using different MACD settings, but the ideal settings are those that most Forex traders use, and those are the defaults.
The default MACD settings are 12, 26, 9.
While modifying the settings a little bit can sometimes yield good trades, the most consistent MACD indicator formula is when you use the default settings parameters. This way, your strategy is much more resilient over a long period of time.
When to enter trades using the MACD
Since we're looking at the 1 minute chart in this scenario, our primary focus is intraday trading. The MACD indicator does really well to help identify reversals when used in confluence with other indicators or support and resistance.
Signal line crossover at support and resistance
When you see a signal line crossover combined with a strong candle, it is a potential entry signal.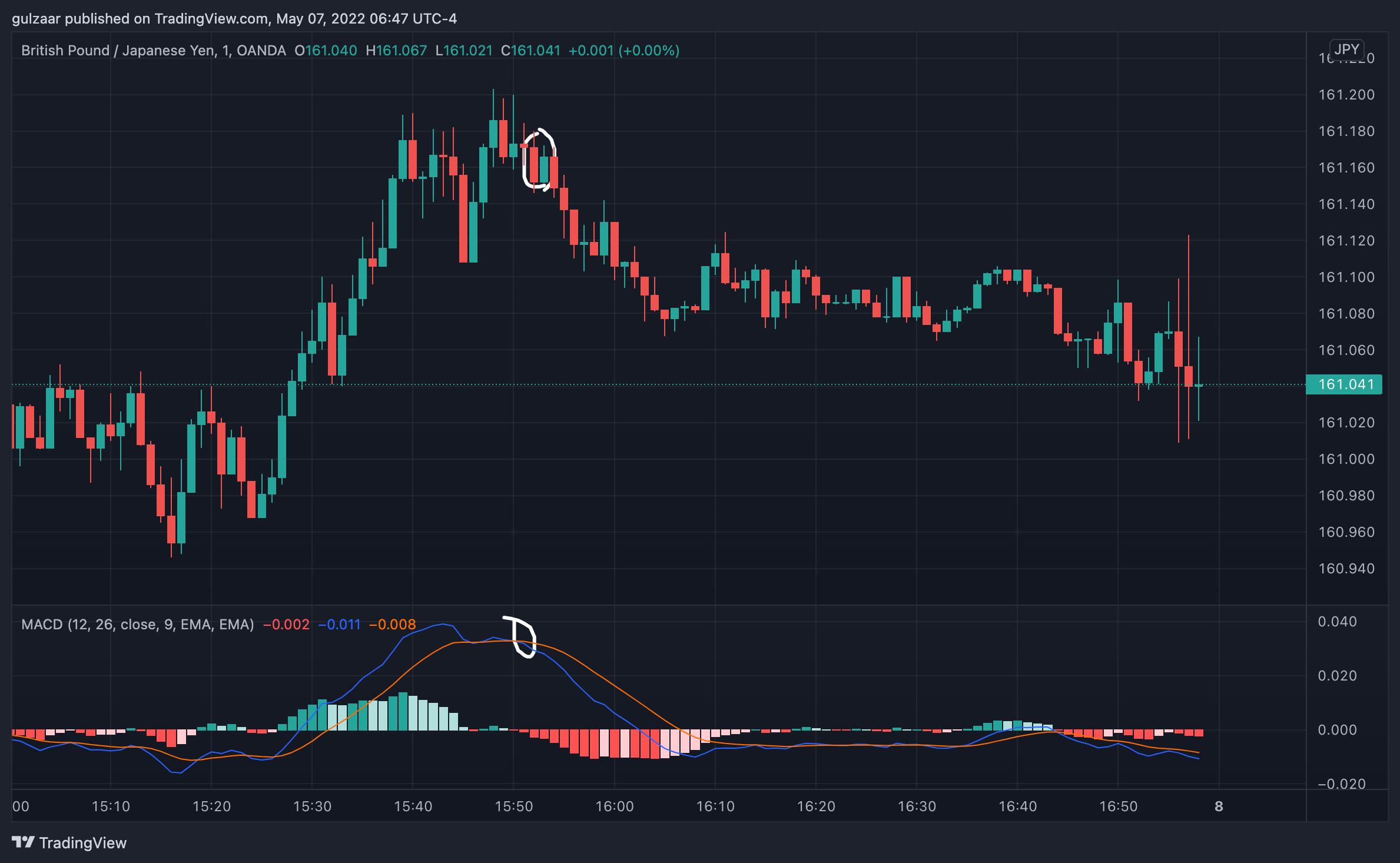 This GBP/JPY one minute chart shows a good downwards move. Price was at an area of resistance, which was followed by a MACD indicator cross and a strong bearish candle. Your stop loss would have been a few pips above the last high and you could have targeted a 1:1.5 risk-reward or more.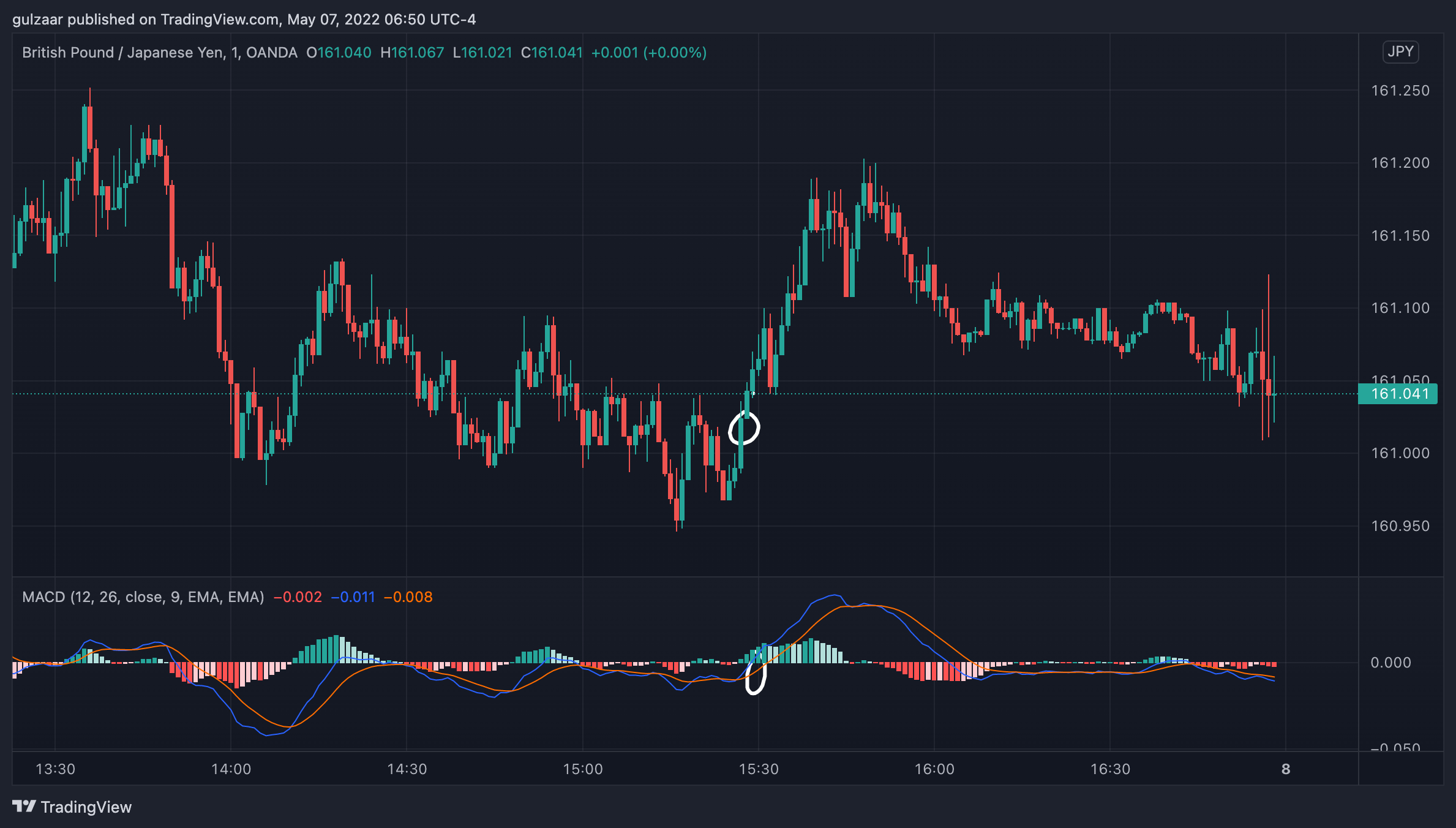 Here is another example from just before the sell signal earlier. There is a strong bullish candle along with a good MACD indicator signal line cross.
Use a weakening histogram to exit a trade
Another way you can use the MACD indicator in your Forex trading is to utilize the histogram to know when to exit a trade.
Ideally, your MACD histogram should have 2 colors for positive and 2 colors for negative. You will not be able to use this signal if you have a single-colored histogram.
When you're in a trade, you can exit the trade once the MACD histogram begins to change shade, suggesting that the momentum is slowing down.
Assuming you got into the trade after the two rejection wicks and retest, you could ride the move up until the MACD begins to turn lighter, suggesting that bullish moemnutm is faltering and a correction is on the way.
Use divergence to spot reversals and continuation
Divergence is a very powerful MACD strategy you can use and it even works one the one minute chart. In fact, divergence can be used in all timeframes, and it is a preferred method of technical analysis for many professional traders.
To spot divergence, look for when the MACD histogram and the lows and highs no longer match.
For example, if price makes a lower high but MACD makes a higher high, it suggests that the correction is over and there could be bearish continuation. This is called hidden divergence.
Note: This works the other way round, too, if price makes a higher low but MACD makes a lower low, it suggests there will be bullish continuation.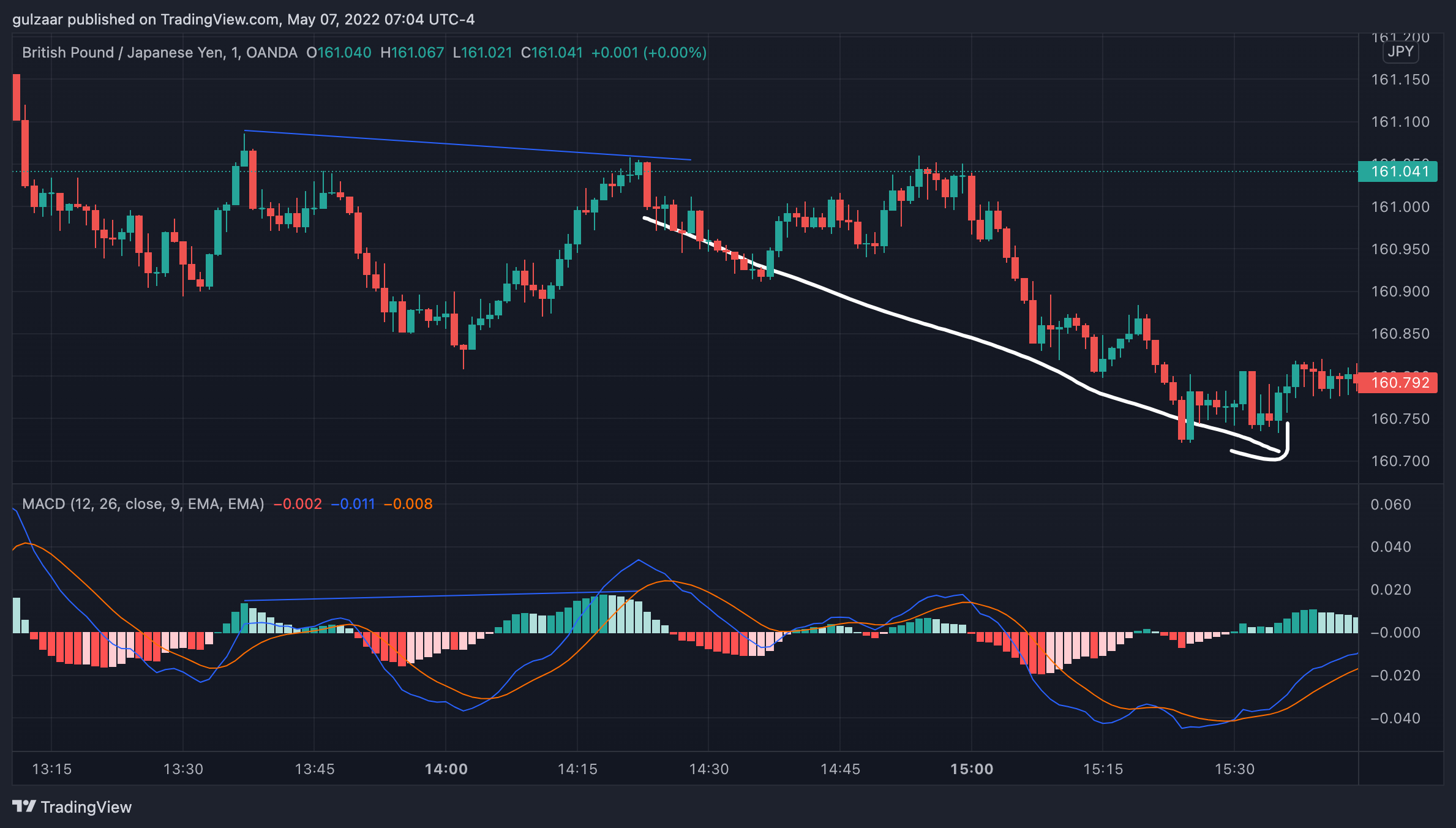 If price makes a lower low but MACD makes a higher low, it suggests that the bearish momentum is weakening and a reversal is possible. This is called regular divergence.
Note: The same principle can be applied the other way. If price movement makes a higher high but MACD makes a lower high, it suggests that bullish momentum is weakening and a reversal is possible.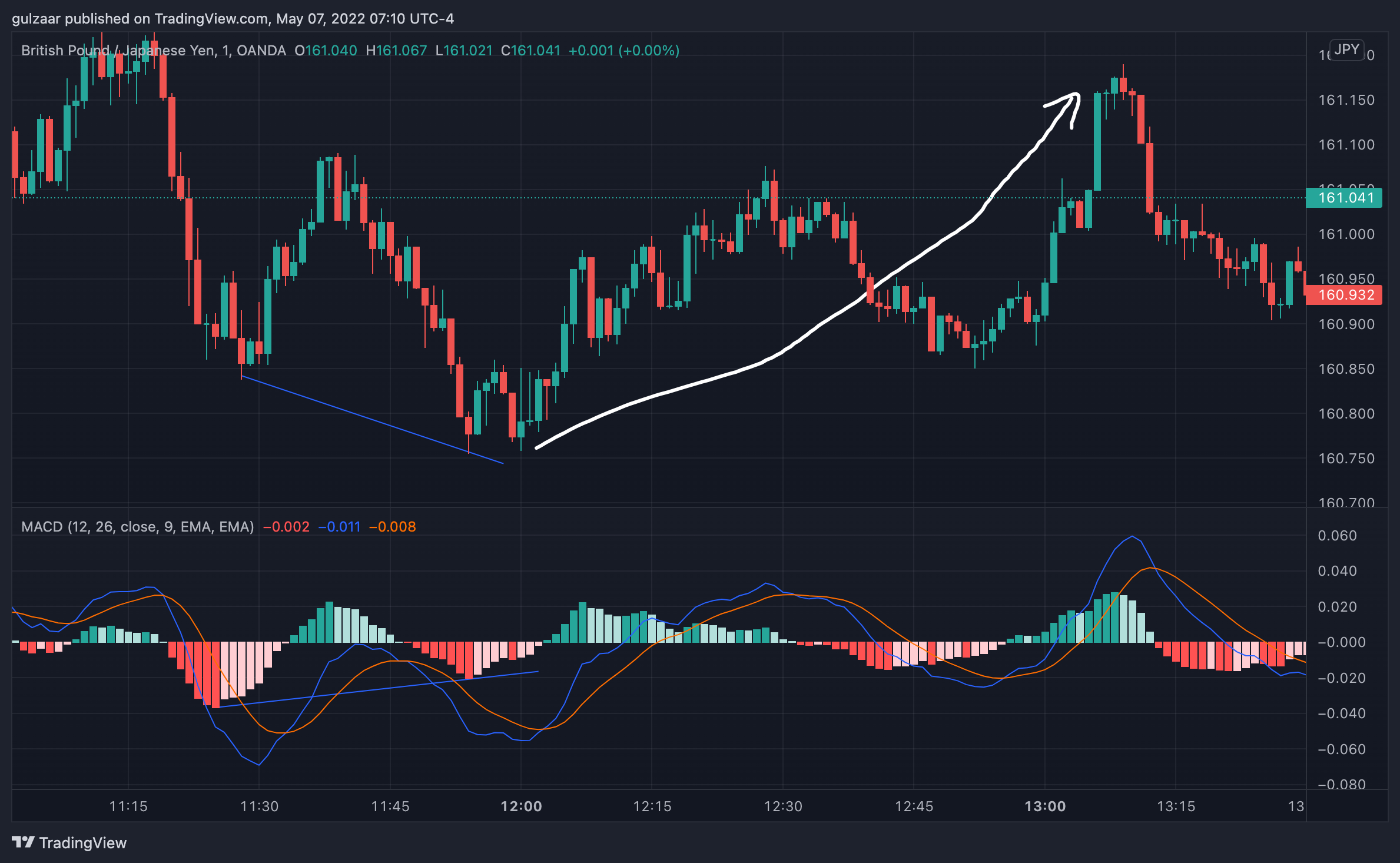 The key to an intraday trading system
By far, the MOST important factor to get any intraday trading system to work is the time at which you trade.
You can have the best MACD settings in the world that nobody else knows, but if you try to sit and trade at a time when there is no movement in the market, you're going to have a bad time.
More:
What's the best time for scalping
Conclusion
To conclude, the best MACD settings for 1 minute charts are the default settings. The strategies discussed in this post are most effective for intraday trading, but they can also work for swing trading as well.
The beauty of the MACD indicator is that it works no matter what time frame you are looking at.
With a combination of a good strategy and proper risk management, you can be profitable in the long run.